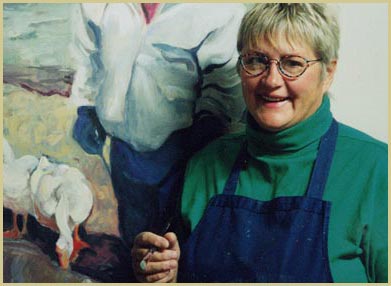 Portrait artist Ina Finch explores the world for inspiration and to learn about other cultures. While traveling to New York and Seattle and living in Russia for several months, she produced numerous compositions inspired by life.
"I appreciate people who have unique lifestyles and personalities."
She has painted figures for nearly 40 years, working in many different settings and numerous styles, from Victorian to contemporary and impressionism to loose-realism. Her emphasis is on loose-realism.
"I'm interested in telling the story about the client. I don't compete with the camera, as my style is not photorealism. I've always felt that if photorealism is the desired end, a photograph is the best medium."
Ina will photograph her subjects when she doesn't have the luxury of painting on location.
"The foundation of each work is the composition. It's essential that the figure relates to its pictorial plain. Painting on location and capturing the models in their natural setting is the ultimate experience."