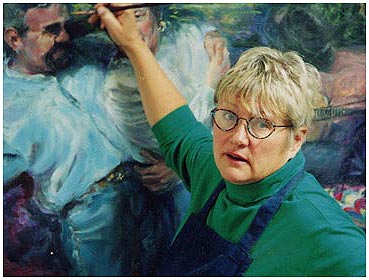 Ina Finch has an uncommon perspective and understanding of the arts.
Growing up on a farm in picturesque southern Colorado and being the daughter of an artist who studied under Birger Sandzen, Ina fell in love with painting at a very young age. She was captivated by the human figure and quickly learned the thrill of drawing it.
Her formal studies began at the University of Colorado where she received a Bachelor of Arts degree. After college, she shared her excitement about art with the world by teaching at all levels-elementary to high schools students, college students, and private individuals. She also worked as a commercial artist, creating signage and illustrations for federal and state governments.
Ina continually attends workshops to learn from her contemporaries, who include Ray Vinella, Richard Schmid, Kim English, and others. By studying retrospectives from such noted artists as John Singer Sargent and Joaquin Sorolla and by traveling around the U.S. visiting Russia, she learns the history of art and gains inspiration.
With more than 300 portraits painted to date, Ina has learned to adapt her style to paint in different settings and genres. Whenever possible, she composes from life. Because that requires a lot of patience and time from the subjects, it is not always the best method. In that case, Ina uses photographs to create a composition. Find out more about her approach to portrait painting.