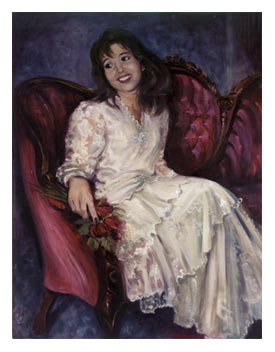 Artist. Observer. Teacher. Painter. Traveler.
Ina Finch is passionate about meeting people. She's attracted to their innate beauty, curious surroundings, and uniqueness. She enjoys discovering the characteristics that others may overlook and putting their brilliance on the canvas.
For Ina, oil painting requires not only the ability to place on the canvas things that you see, but also your intuitive involvement with the subject matter. The goal of painting is to show the world something that they perhaps had not seen before.
It is Ina's deep appreciation and affinity for people's beauty that makes her family portraits and personal portraits distinctive and has fueled a career that has spanned 40 years. Read Ina's biography to learn more about her influences and work in Colorado.
To find out how you can have a portrait by Ina Finch, contact her here.
---
Typical portrait pricing:
18" x 24"
(Bust only)
$2500
30" x 40"
(1 to 2 full figures)
$4500 - $7000
36" x 48"
(1 to 3 full figures)
$4500 - $7000
50" x 72"
(1 to 5 full figures)
$20000 +
---
Standard Portrait Process:

Ina meets with the client to discuss portrait options.
She has a photo session with the client to review compositions.
Times are arranged for Ina to do oil sketches of the subject(s).
With her final composition, Ina paints on-site from the subject(s) or in her studio from the photos and sketches.

Additional Information:

Ina prefers to paint on location from a live model and takes her own photographs for reference.
Framing is an additional charge based on the style of frame. (To have a portrait framed it takes a minimum of 3 weeks.)
Travel may incur an additional charge.
Portraits that need to be shipped will be charged shipping costs.
It takes 4 to 6 weeks to finish a portrait on average.